Transparente Sicherheit Holographische Folienstempel (NS-HSF-028)
Produktbeschreibung
Modell Nr .: NS-HSF-028 Material: PET Rohmaterial: Laser Heißprägefolie Größe: Jede Sonderdicke: 20u Kleber: Heißprägeklebstoff Spezifikation: Rohs, CTI HS Code: 39199000 Anwendung: Papier, Kunststoff Typ: Holographisches Heißprägen : Flat Hot Face Material: Pet Film Farbe: Kundenspezifische Marke: Neun-Sterne Herkunft: Guangdong, China Transparente Sicherheit Holographische Folie Stempel (NS-HSF-028)
Produktionsinformationen
Mit Heißprägeverfahren können auf eine Vielzahl von Materialien wie Papier, Kunstleder, Stoff, Eisen und Kunststoff übertragen werden. Es ist gut bekannt, dass heiße Folien die Bilder und den Wert der Produkte leicht fördern können. Hologramm Heißprägen Folien auf alle Arten von Produkt-Verpackung, Grußkarten, Geschenke, Briefpapier, Kalender, Buchcover Kreditkarten, £ ýeather Artikel & Vielzahl von Kunststoffen wie Telefon ÔÏetc.
Bei der Verwendung mit benutzerdefinierten Design-Muster oder Logo, Hologramm Heißprägefolien werden Sicherheitsfolien, die Kreditkarten, Pass und Wert Dokumente von gefälschten zu schützen.
1. Hologramm-Heißprägefolie mit Registrierungsmarken - registrierte Hologramm-Heißprägefolie
2. Hologramm Heißprägefolie ohne Registrierung Markierungen - Tapeten Design Hologramm Heißprägefolie

Size
As your requirement
Sample:
Free
Material
PET/OPP/BOPP
MOQ:
1000PCS
Color
gold, silver, clear, blue, red, pink, green etc
Packing:
carton
Usage
Anti counterfeiting, package seal,custom
Price
Ex-factory ( based on material, size, printing colors and quantity)
Feature
1) Water proof and sticky
2) Great to prevent leakage, excellent moisture barrier
3) Strong sealing, durable
4)Anti counterfeiting
5)if you need more security,can add scratch off,unique number,serial number,QR code etc.
Shipment 
Express(DHL/UPS/FedEx)
Delivery time
Normally 7-10 days
Payment
T/T bank transfer, Western union, L/C, Moneygram
Produkt Show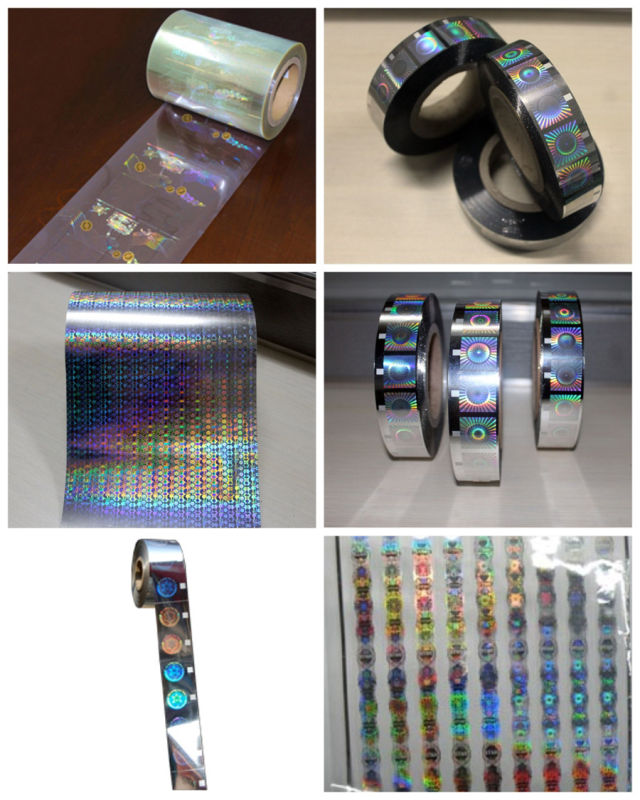 Weit verbreitet in verschiedenen Bereichen

Über uns: (1) Ursprüngliches authentisches Aufkleberetikett unser Vorteil, (2) Ihre Anfrage bezogen auf unser Produkt & Preis wird innerhalb von 24 Stunden beantwortet. (3) Gut ausgebildete und erfahrene Mitarbeiter sind alle Ihre Anfragen auf Englisch natürlich zu beantworten. (4) Unsere Produkte werden nach Europa, Nordamerika, Südamerika, Afrika, viele Grafschaften in Asien, auf der ganzen Welt exportiert. (5) Gute After-Sales-Service angeboten, bitte zurück, wenn Sie Frage haben. Willkommen, um mit uns jederzeit für irgendwelche Details in Verbindung zu treten, wir antworten Ihnen zum ersten Mal.
Kontakt: Chace Jiang
Mobil: + 86-13790329087
Produktgruppe : Hologramm Heißprägefolie